Doing some research on Japanese religion, induced by Jim's latest overstretch, I found a very neat building in Japan.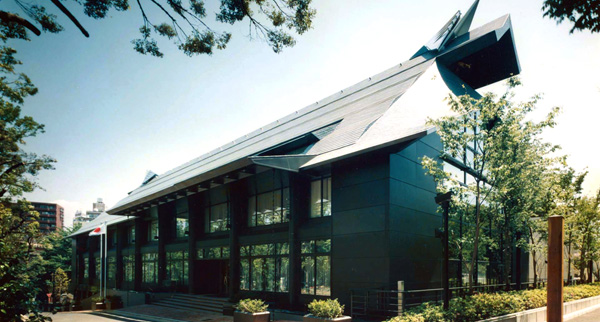 Here's a different angle:
This is the 神社本庁, the state bureau that manage the nation's Shinto shrines. Which is why it's called 本庁, central bureau.
Oh, but McArthur's reforms decreed that Japan was to have separation of state and religion. So the state can't manage the shrines anymore. No problem. We'll just get privatize the agency, not even changing its name, and keep the same people running it anyway. We'll just make it like the same bureaucrats from the same agency just happen to move there when they retire from the government.
Creative politics, and creative architecture that is. The building appears to be in Shibuya, one of the trendy parts of Tokyo, so that's probably why it's hard to get the right angle to take a picture. But you can tell that it's a very modern building with big windows and modern piping and whatnot; but they've had the good sense of making the roof look like a Shinto shrine. Which makes it a lovely building. I'm sure the bureaucrats enjoy going to work there every morning.
Here's Ise shrine for comparison:
Oh and I haven't finished my reading but I think it's fair to say that Shinto was a totally made up contraption, cooked up by nationalist scholars in the 18th century and made into a national religion by government decree a century later. It's a pretty interesting story and may shed some light on how to make a New Religion, and how it may work.